On Saturday July 22nd Paul formed part of the British Watercooler Association Triathlon team taking part in the world's largest triathlon to raise funds for the Just A Drop charity.
Team BWCA was made up of Chris (Swim), Paul (Run) and Richard (Bike). Here you can see the team with their post-race Medals.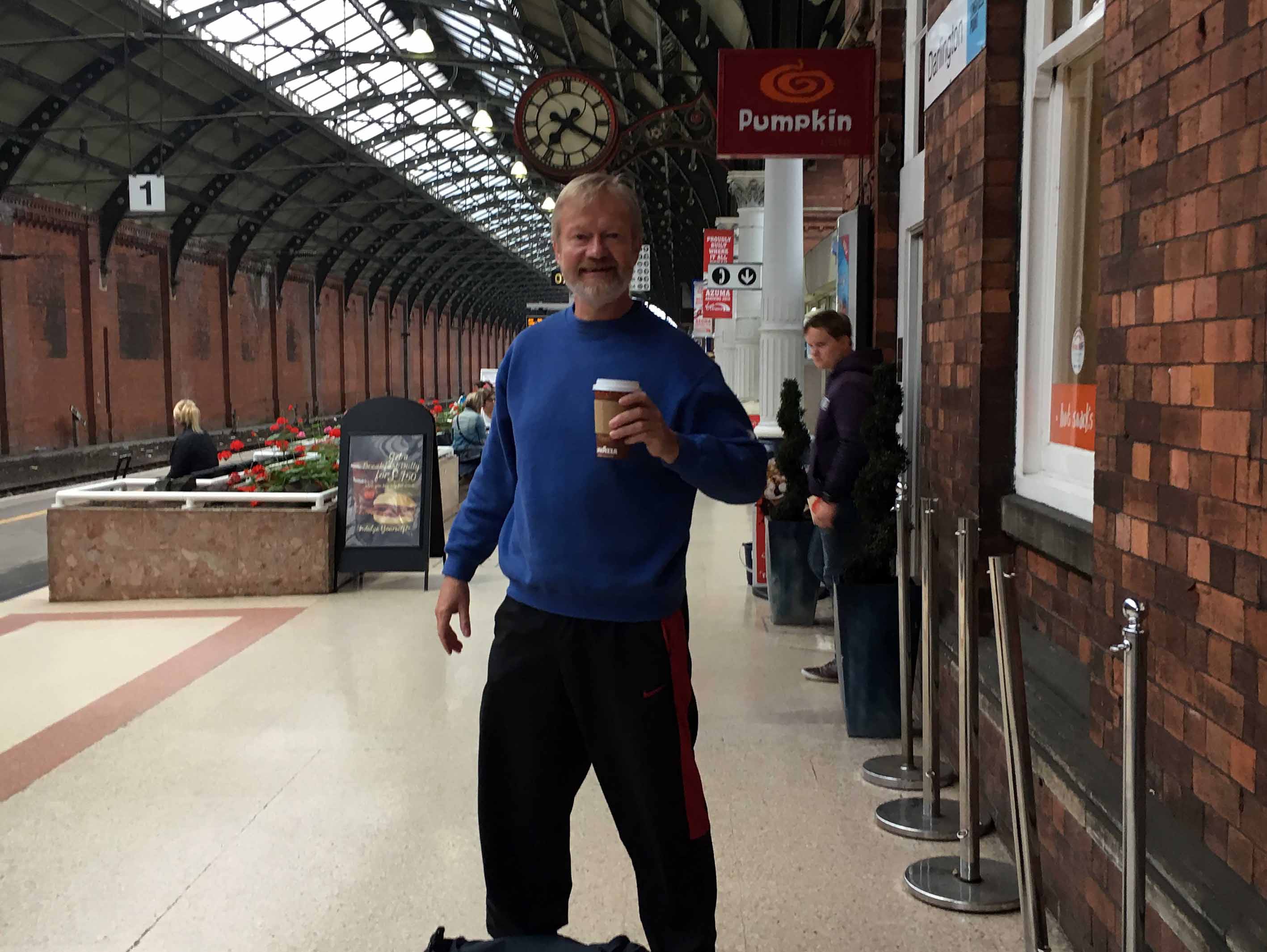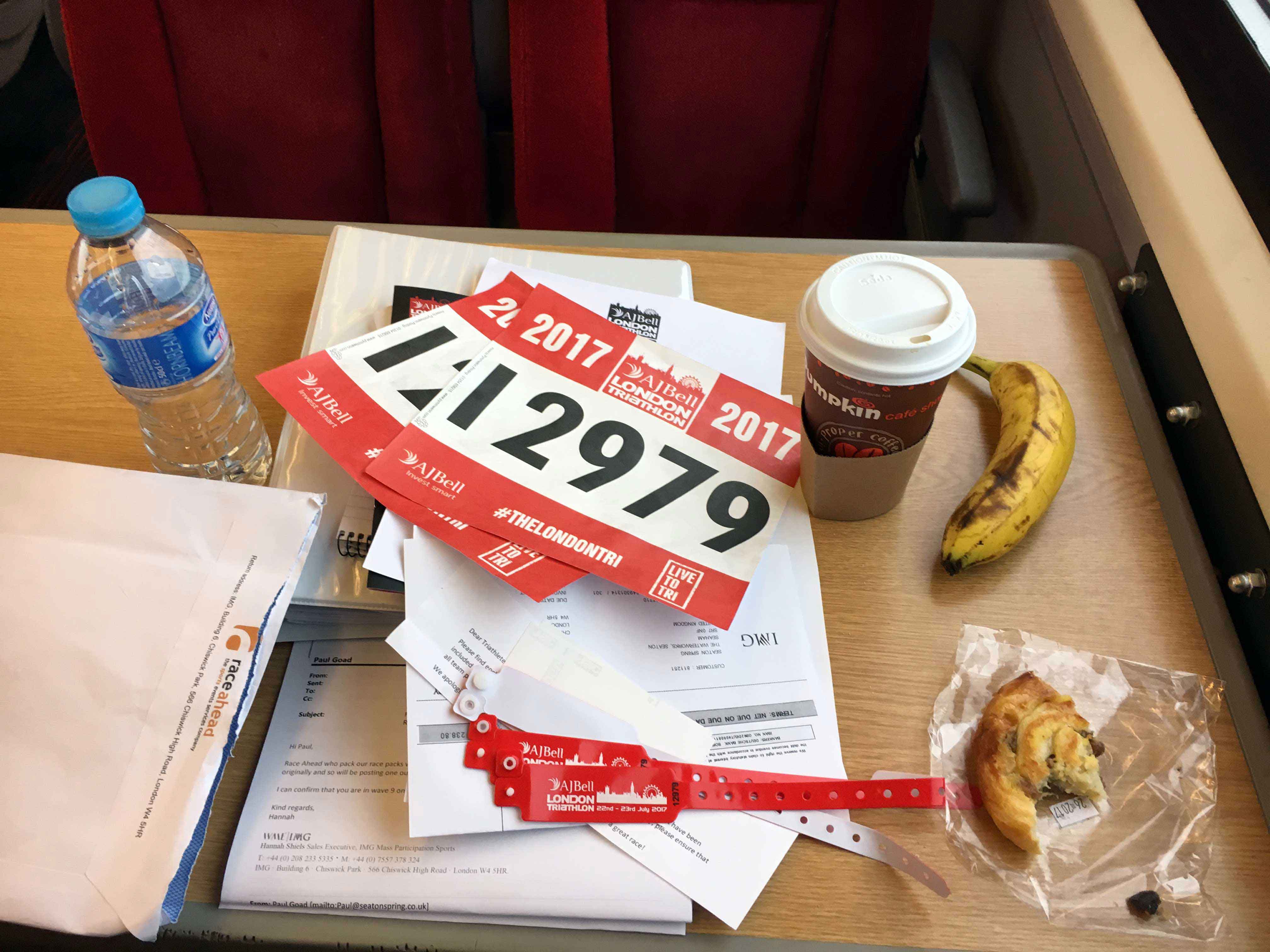 Saturday July 22nd; 6.10 a.m.; alarm call. Early start up in Swaledale to make the 7.30 Darlington to Kings Cross train. I'd meticulously packed my kit the night before and slipped out of the house before the family woke.

I had my first coffee at Darlington station before settling down to a carbohydrate fuelled breakfast on the train and as self-designated TeamBWCA captain proceeded to go through the pre-race admin. As we'd entered the Olympic Corporate Relay as a team we had three of everything to share.
The train arrived bang on time at Kings Cross before jumping on the tube getting to the ExCel Centre an hour later. The journey couldn't have been simpler and got me straight to the race HQ.

On arrival I realised that I hadn't really grasped that this is marketed as the 'World's Biggest Triathlon'. You couldn't help but be impressed by the scale of the event; rack after rack of expensive road bikes at one end of the hanger and the floodlit finish at the other end complete with timing clock, huge screen and banked seating full of spectators.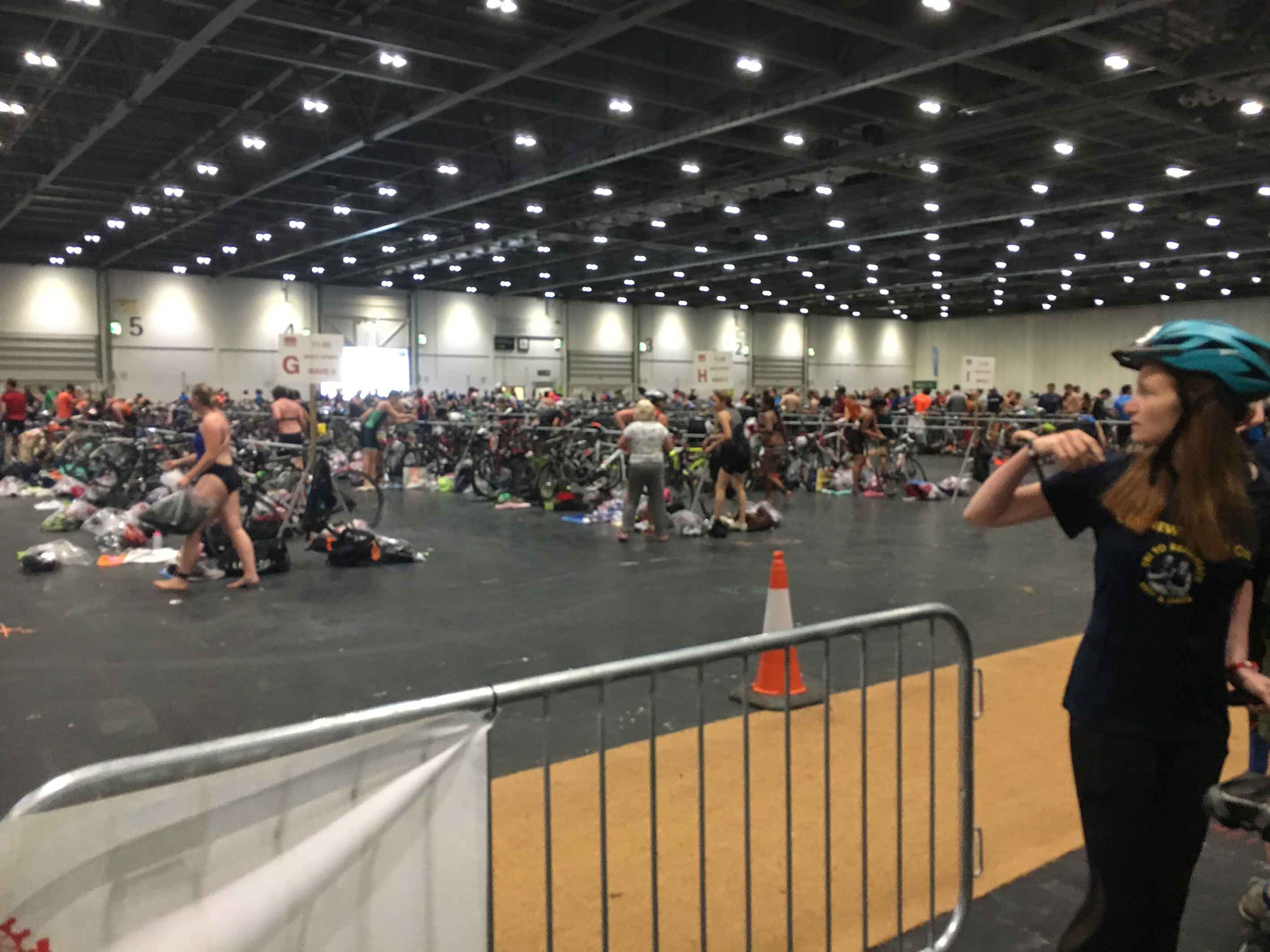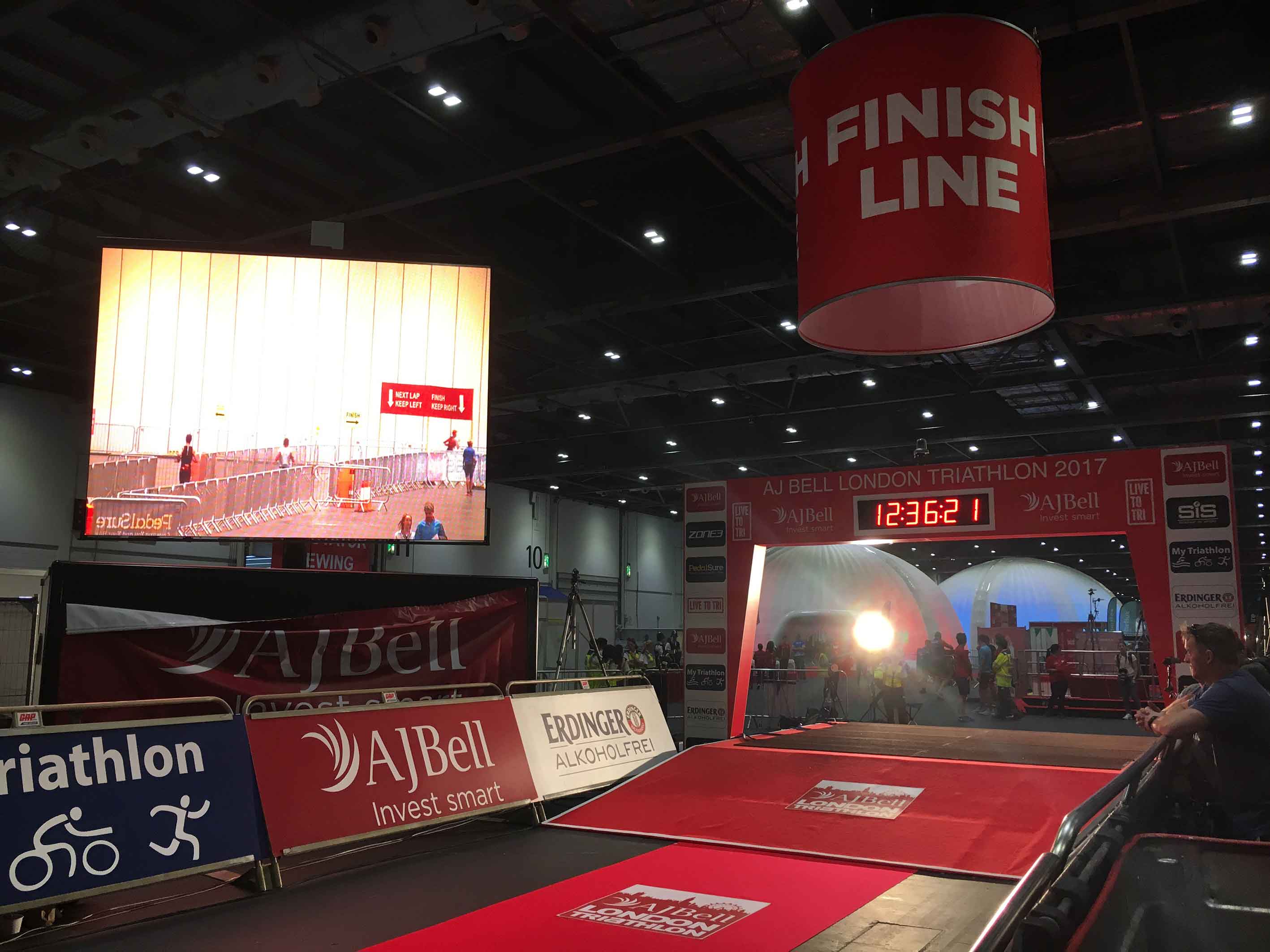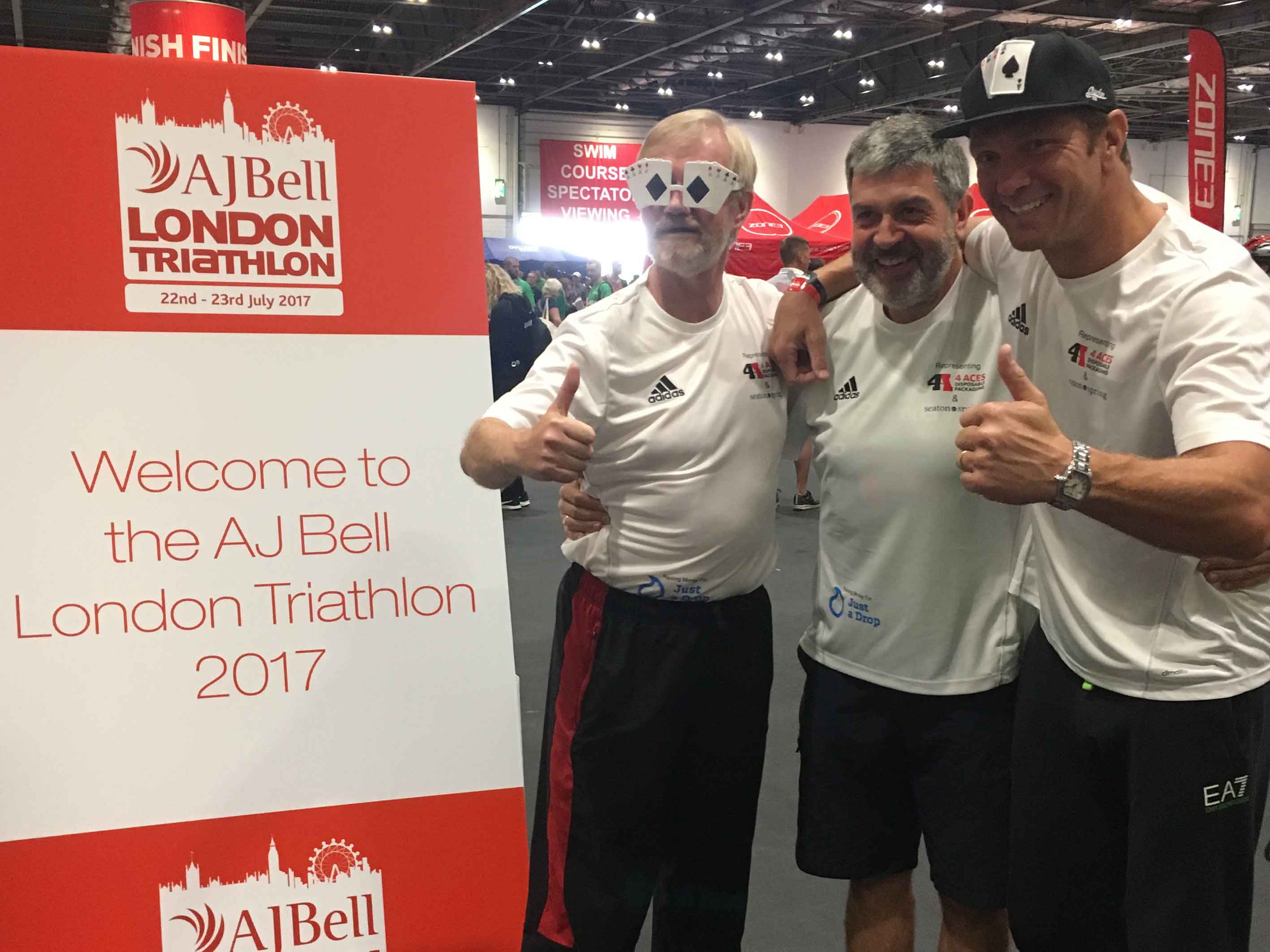 Despite the large numbers Chris, Richard and I managed to meet up and have a team meeting at the on-site Costa. We hadn't seen each other for quite a while and it was good to catch up. Once race numbers, arm bands and various paraphernalia were all issued we had a team photograph before breaking off to do our own pre-race routines.

We were in Wave 9 with Chris due to start his 1,500m two lap open water swim at 13.10. I wandered over to the swim brief area at 12.50 to check Chris was amongst the 100 plus swimmers in his wave getting the safety brief. I couldn't spot Chris amongst all the other wet suit clad athletes but consoled myself that they all looked the same and I was sure he was in amongst them.

As I made my way outside to see Chris start I bumped into Harley, Chris's son. Harley advised me that Chris was already swimming and I quickly realised he'd gone off in the wrong wave with the Corporate Sprint not the Corporate Olympic.
Anticipating a problem I headed to our bike position in the transition which was where Chris was eventually headed, Richard, our cyclist, was nowhere to be seen as he still had another 30-40 minutes before Chris should be out of the water. Picture the scene Chris running towards me clad in his speedo's carrying his wetsuit'
Chris "where's Richard"?
Me (chuckling): 'How many laps have you done Chris'?
Chris: 'One'
Me: 'You're meant to do two – you went off with the wrong Wave you Doughnut'.
Chris: '*******'. I'm going back in then – help me get this ******* wet suit back on'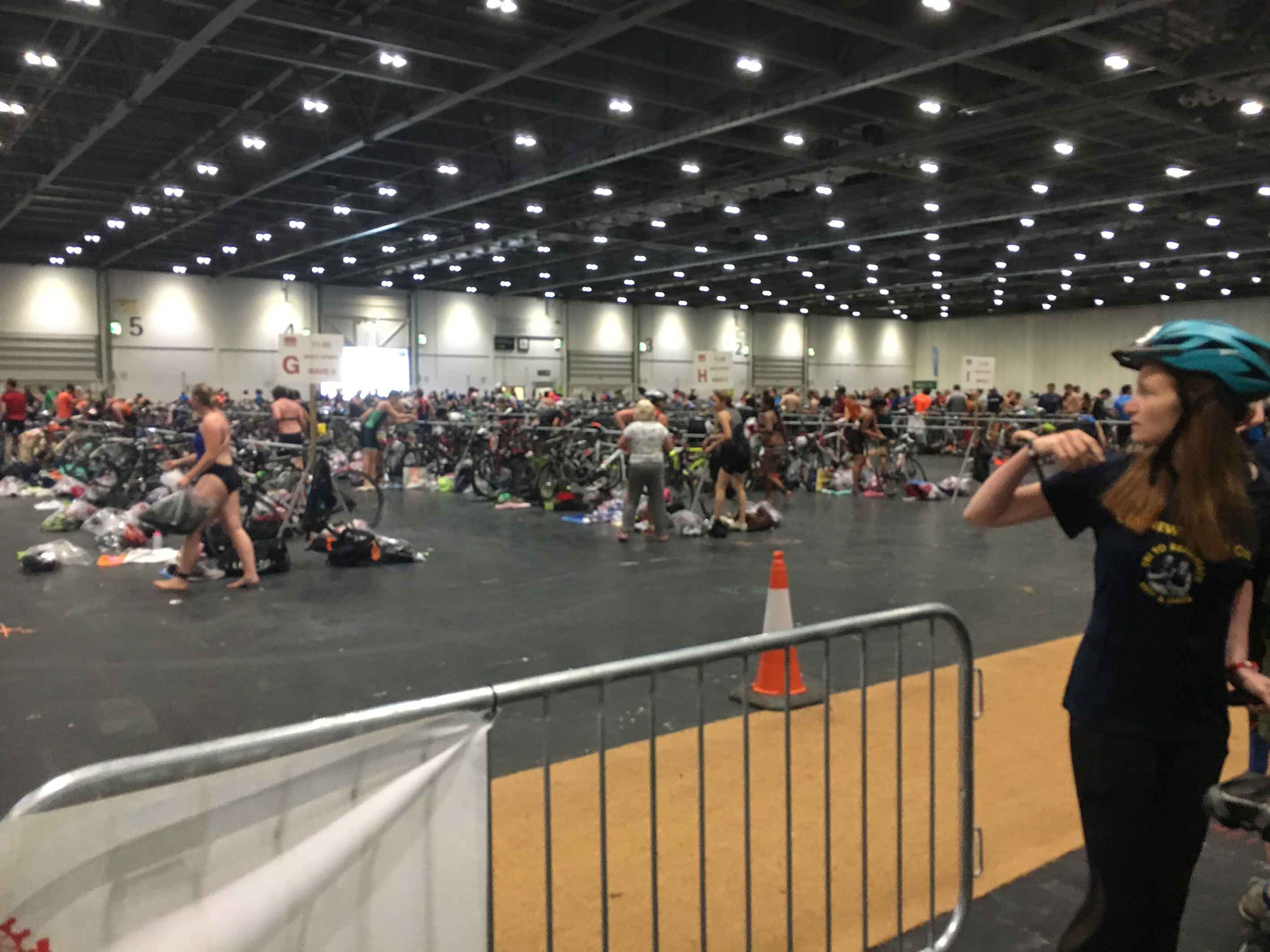 I then had the unenviable task of helping Chris back into his wetsuit before launching him off for his second lap. Richard returned to his bike with plenty of time to spare as we had a giggle about Chris' antics. Chris duly completed his second lap before handing over our timing chip to Richard.
Richard anticipated taking at least an hour and a half to do his bike leg and as a seasoned road racer I expected his timings to be pretty accurate and settled down in the transition area to wait for him.
Richard proceeded to have a flyer having failed to factor in the flat nature of the course. Back home in the West Country Richard train's on hilly terrain and he knocked off the 40km course at least 25 minutes quicker than forecast. Fortunately I'd just put my running shoes on, we transferred the timing chip and I was off quickly off on my 4 lap 10k course. We all planned to meet up for a team finish and I predicted getting round between 50 and 60 minutes.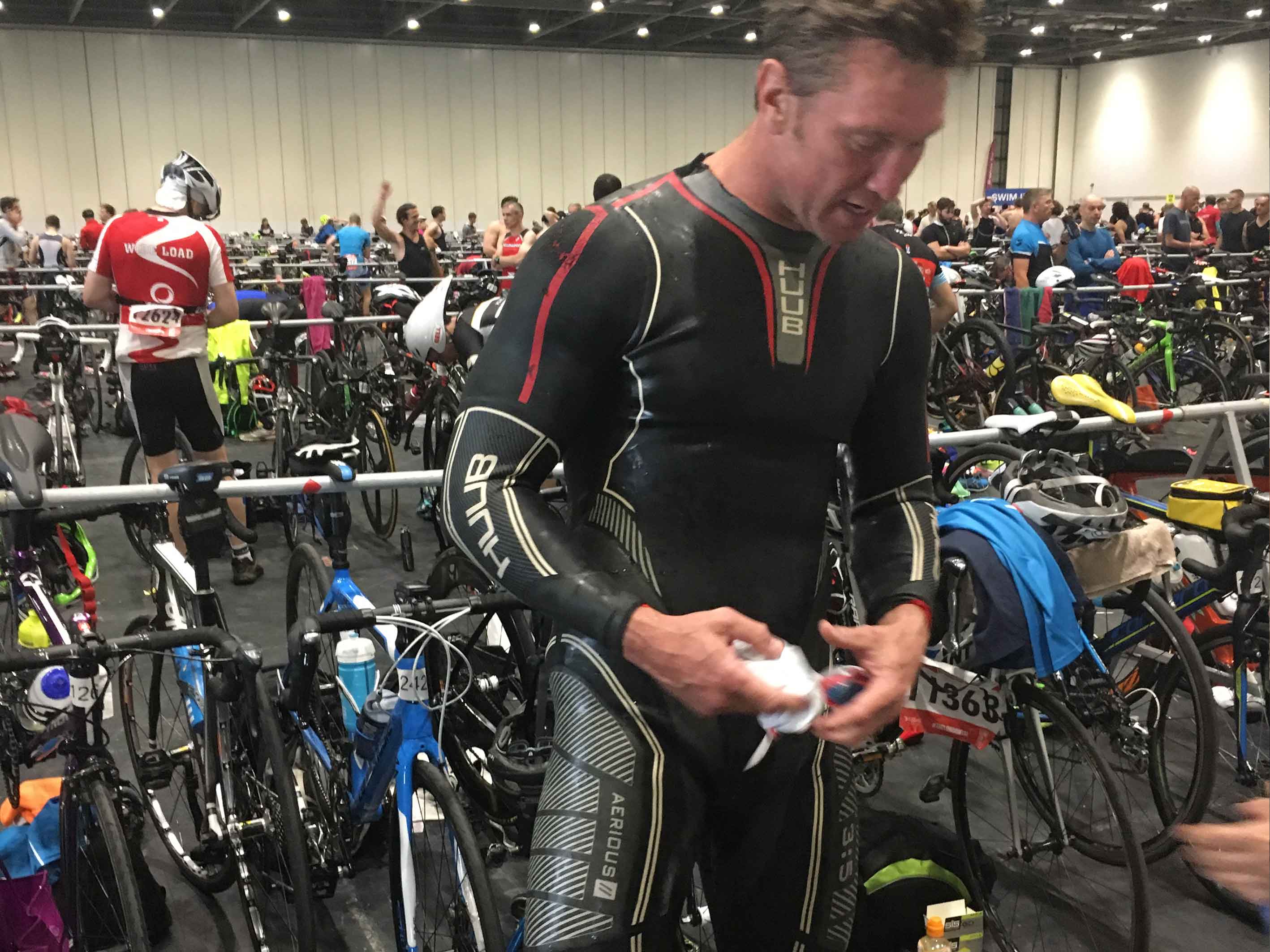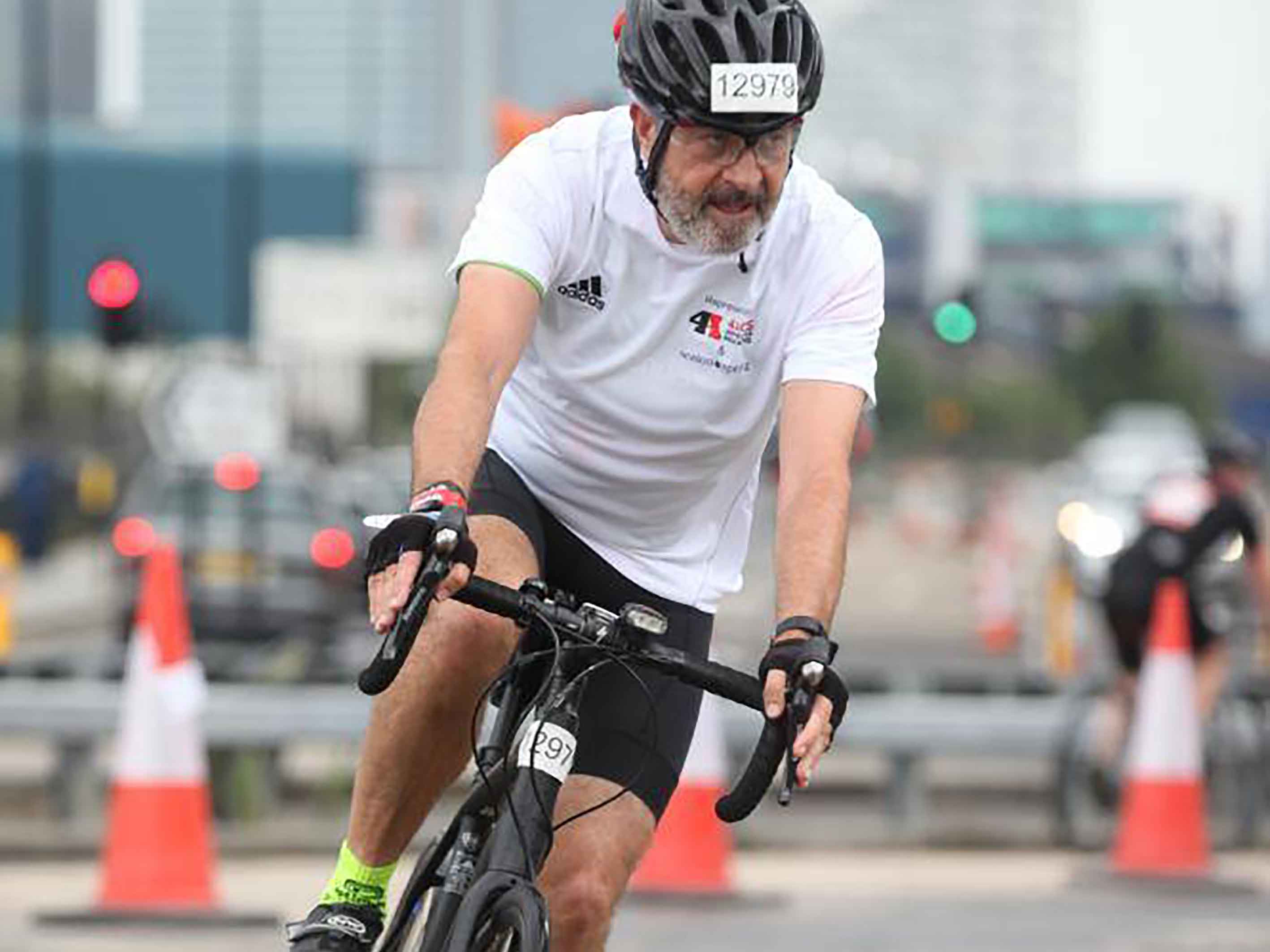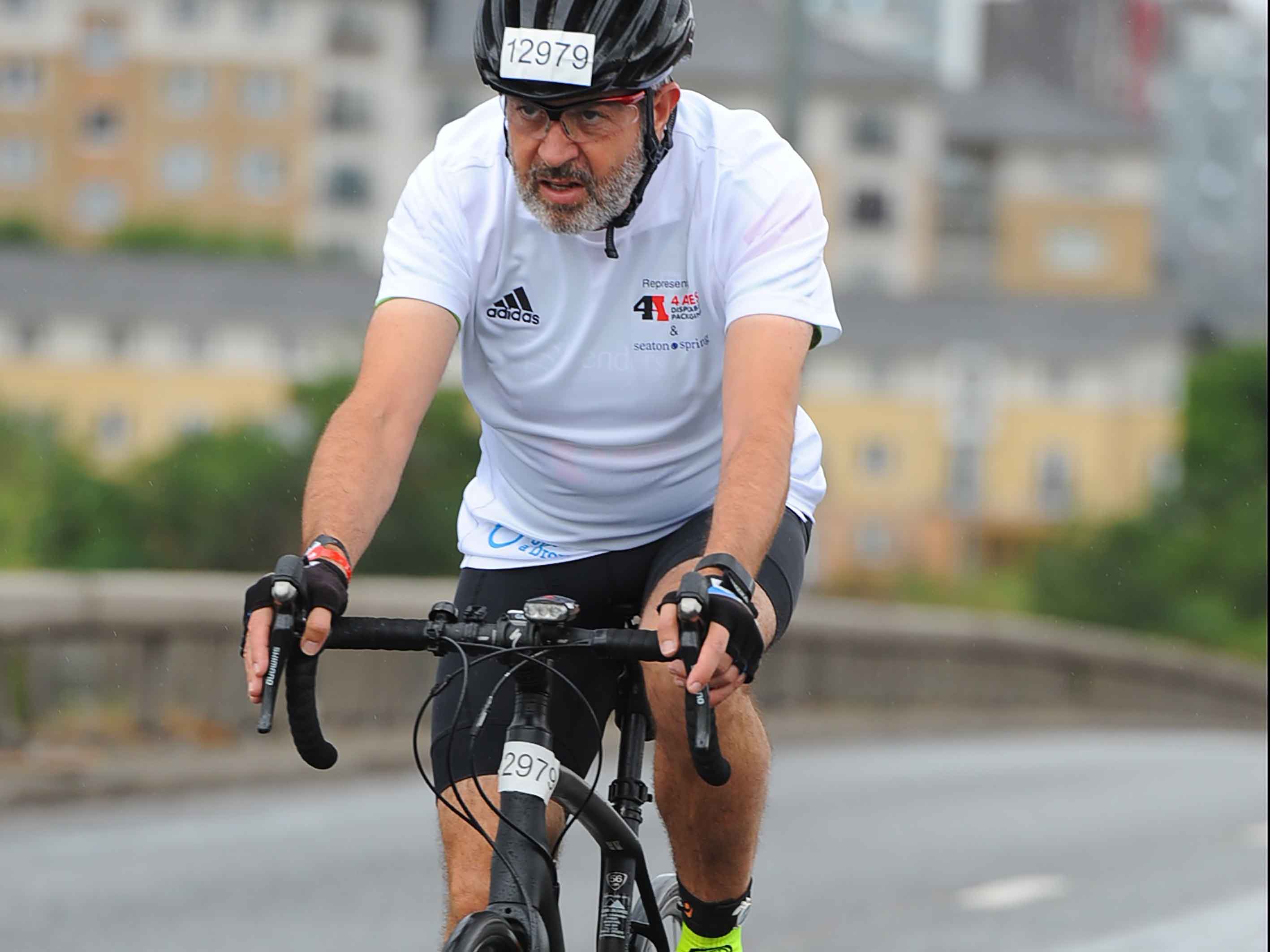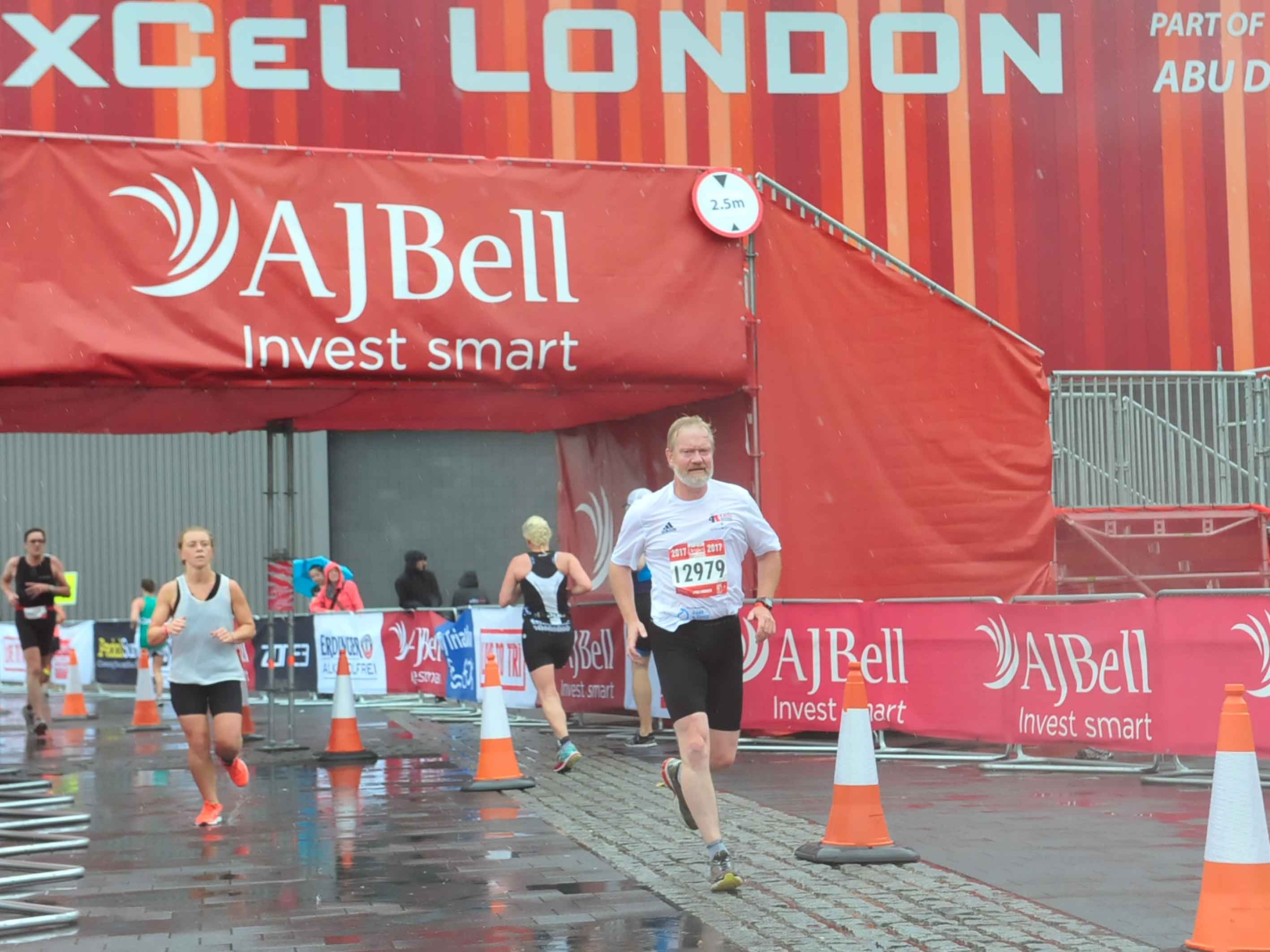 Having now been inside for over two hours I hadn't realised how heavy the rain was. I headed out of the transition run exit into pouring rain and plenty of deep puddles, 'better than a heatwave' I thought to myself.
The run course was excellent, four laps with plenty going on to break up the monotony; a music zone plus a charity area with supporters braving the weather from charities such as Marie Curie all cheering you on and every lap you came back into Excel and meandered for around 300 meters with the crow all around you before starting your next lap. Added with all this I'd also chatted during the day to a few random people and a couple of them were now also running and we were able to encourage each other and high five as we passed each other.
My first lap was completed in 13 minutes but I knew this was the longest lap as you had the transition exit to add in. I completed my second lap in 12 minutes and knew I only had to hold the pace to hit a 50 minute finish. My training had gone well up until the crucial two weeks before the run; we'd gone on holiday to my home town of Eastbourne where socialising and turning out for my old cricket club had combined to limit my running in the lead up to London.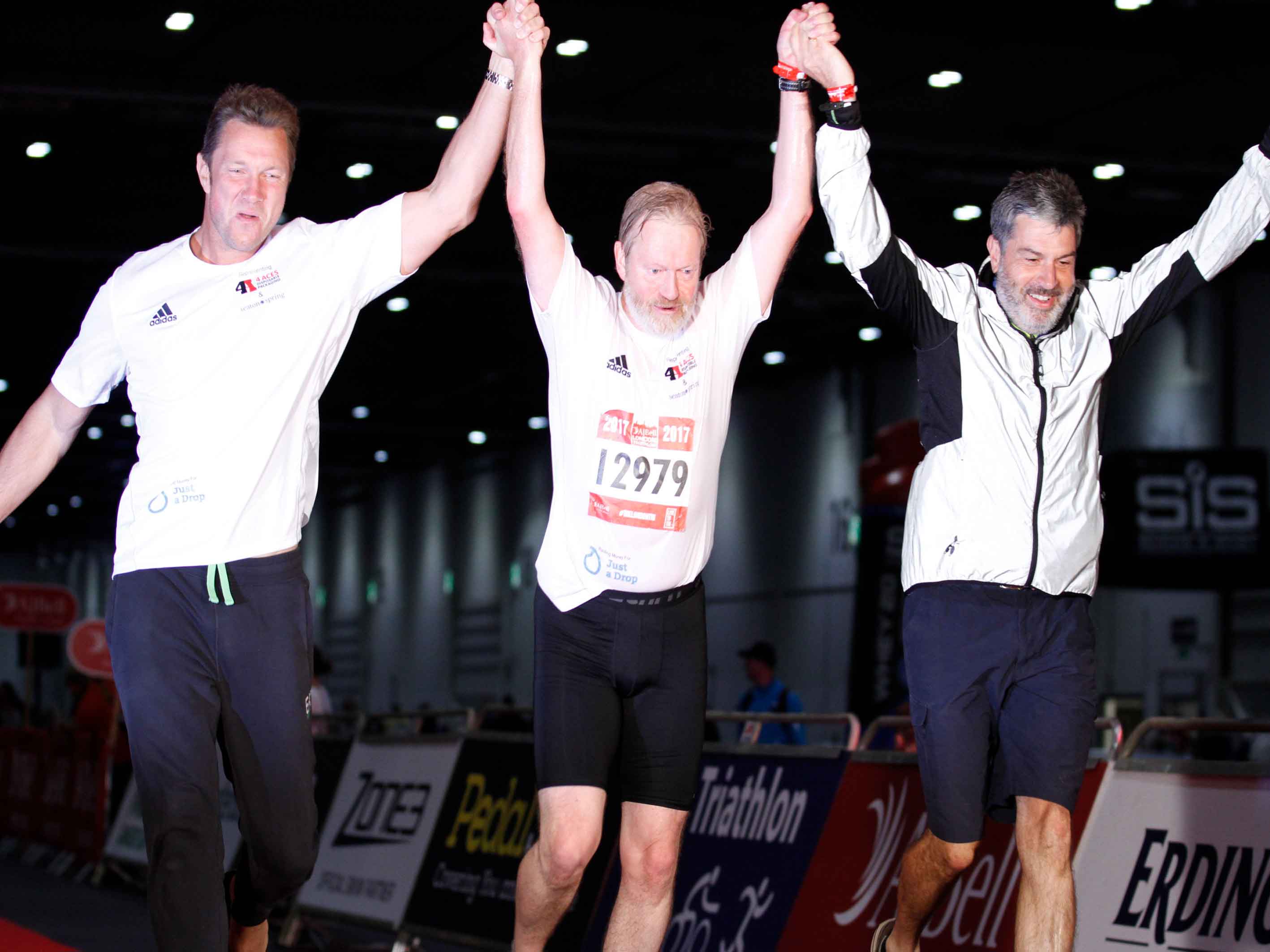 Anyway, I hung onto lap three and four putting on a brave face every time I ran past the soaking supporters and turned into the finish straight bang on 49 minutes. Waiting for me were Richard and Chris with their trainers on ready for the big team finish. I had explained to both of them that I'm inclined to do a 'runner's honk' on the finish line and asked them to ensure we had a gentle finish. They'd clearly both forgotten and as we ran down the finishing straight, our images projected onto the big screen and a few hundred people applauding clearly the adrenalin kicked in and they both proceed to run faster and faster.

Just about managed to maintain my composure as we had our medals placed round our necks and were ushered to have our post-race photos taken. As we exited there were computer screens displaying finish times and position and despite Chris's antics the technology had managed to capture all of our times. Amazingly we finished 101st of the 184 Corporate teams – how well could we do next year if Chris refrains from adding in a 400 m run between his two swim laps we mused?
We were then all given a very refreshing pint of alcohol free beer which we supped while agreeing how much we'd all enjoyed it with a unanimous decision to return next year.
My meal on the train home was less nutritious than the one in the morning but far more satisfying. The rail network again worked well for me and as I unlocked the front door at home the hall clock struck 9.00 p.m. All in all, a very satisfying day.
It's still not too late to make a small donation just go our Trade Association's designate charity Just a Drop at
www.justgiving.com/fundraising/4aces-seatonspring